Escape from Mr. Lemoncello's Library
b
y Chris Grabenstein
What could be more fun than an overnight adventure in the brand-new state of the art library?

Kyle Keeley and

his friend Akimi and 10 other lucky 7th graders in Alexandriaville get the
opportunity to solve riddles so they can find their way out of the new library. All the rules must be followed, but they are on their own and must use their wits and the library to solve the puzzle and the way out by noon the next day.

Great fun and a lot of wonderful book references.
K
ristin
(J Fiction)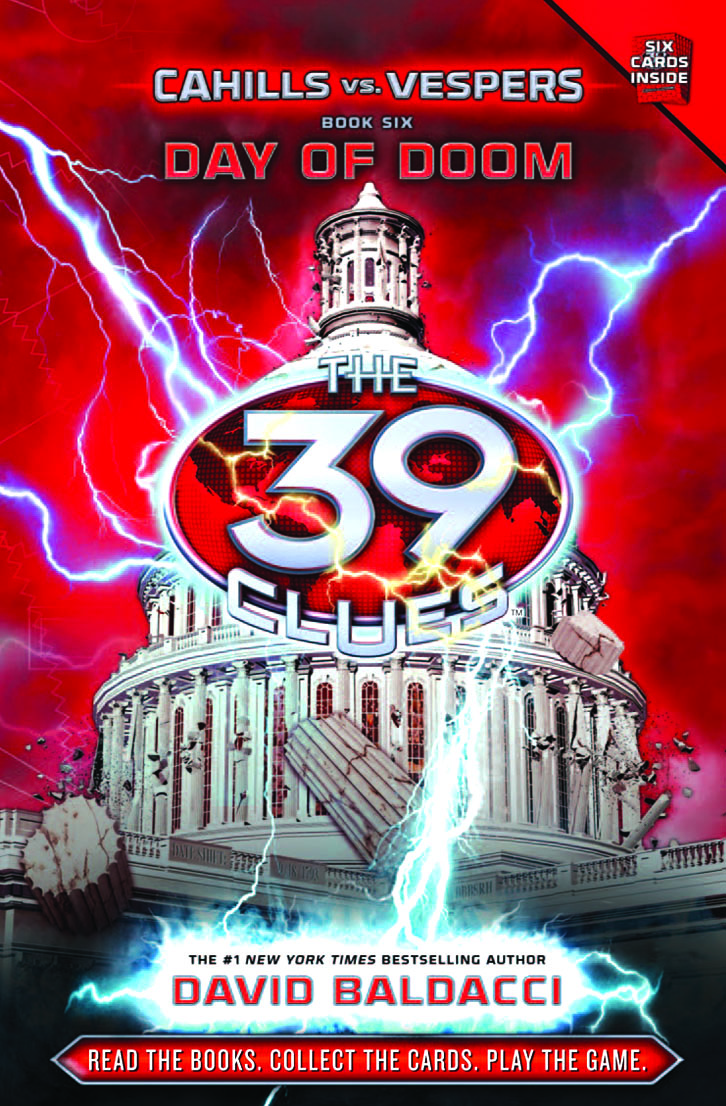 39 Clues: Day of Doom
by David Baldacci
The time has come, the hunt for the clues are over, and now the end is near.

But will everyone make it out alive? That is the real question.

Amy, Dan, their friends and family are on their scariest hunt yet.

This time around it is all or nothing, and if they cannot stop Vesper 1, the world will come to an end.

This final book takes place here in the US, from Washington DC to the great state of Washington.

Will Amy and Dan be able to save the world, and if so, at what cost?

What a great ending to an amazing series.
Jacquie
(J Fiction)
The Year of the Book
by Andrea Cheng
Fourth grade is tough for Anna Wang. While she can talk easily to the grownups in her life like her teacher Ms. Simmons, and Ray the crossing guard, navigating her way through friendships with the girls in her class is a lot harder. Her best friend Laura is suddenly more interested in hanging out with new friends, leaving Anna the odd girl out. Then there's Chinese school where Anna is the only one who doesn't speak any Chinese. Anna tries escaping into the books she reads but it soon becomes clear that she's going to have to overcome her introvert tendencies if she doesn't want to be left all alone. Middle grade readers and book-lovers young and old will enjoy following Anna through her year of the book.
Alia
(J Fiction)
Ten Good and Bad Things About My Life
(So Far)
by Ann M. Martin
Pearl is a girl from New York City starting a new year at school—who is given a common
assignment: an essay all about her summer vacation. This heartfelt and funny realistic fiction title flashes back to the summer vacation of a ten year old who is learning a lot about growing up while on a summer "staycation" and summer camp in New Jersey (of all places)! Why the
staycation? Pearl's father lost her job, which means giving up a few things, including a family trip out west and the beloved family Subaru. This book is a sequel to
Ten Rules for Living with My Sister
, but reads completely independently. Recommended for kids in grades 3-6 who love realistic fiction—sprinkled with a few drawings and notations "handwritten" by the narrator.
Cassie
(J Fiction)