Toilet: How It Works
by David Macaulay
Everyone knows what a toilet is for, but how many people know how a toilet works? I mean how it
really
works – beyond the big flush that sends everything down the pipes. With this book you'll learn where human waste comes from and where it goes. From plumbing, to sewers, to water treatment plants, check this book out and all your bathroom questions will be answered!
Alia
(E Non-Fiction)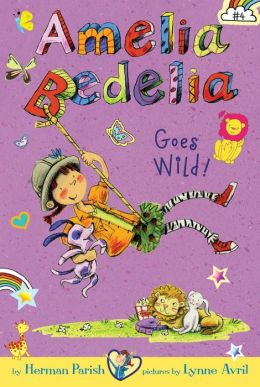 Amelia Bedelia Goes Wild
by Herman Parish
Our good friend Amelia Bedelia is at it again. After being home sick and not being able to go to the school field trip to the zoo, Amelia has a big idea. A HUGE idea! She decides that she is going to turn her backyard into a wildlife experience. With the help of her parents, friends, and teacher, Amelia Bedelia tries to put together a zoo of her own, with real live animals, some not so alive animals, and other fun activities where no animals are required! And why do the zoo and the news reporter show up at the Wildlife experience? You will have to read it to find out!
Jacquie
(J Fiction)
The 14 Fibs of Gregory K.
by Greg Pincus
Gregory K. is ending the school year on a downward spiral. He finds out his best friend in the whole world, Kelly, is moving away with her mother. He also lives in a family of math geniuses and learns that he may fail math for the year. His parents are called in to talk to him and his teacher about the math situation. The worst part is, Gregory loves poetry and writing - he doesn't fit in with his family at all. He ends up telling a few fibs, mainly so he doesn't hurt any feelings, but can he get everything under control?
Kristin
(J Fiction)
The Boy on the Porch
by Sharon Creech
One day, a boy shows up on John and Marta's porch with a note that reads "Plees taik kair of Jacob. He is agod good boy. Wil be bak wen we can." Although John and Marta are quite confused, they begin to take care of Jacob, and find that he has an array of talents—like communicating with animals, painting (although his colors are a bit unique), and playing guitar beautifully. With the turn of each page we learn something new about Jacob and watch their strange family grow, until a man claiming to be Jacob's father shows up—and John and Marta are heartbroken when he has to leave. This is a quiet but engaging book that readers of Patricia
McLachlan and Katherine Paterson should try on for size. Best for readers 8 and up.
Cassie
(J Fiction)