Amelia Bedelia : Road Trip
by Herman Parish
I hope you are ready to "hit the road" with our fun friend Amelia Bedelia.

Amelia's father comes home and tells his wife and daughter that they are going on a trip.

When he tells them they are going to roam, Amelia Bedelia thinks they are going to Italy, but her father quickly explains they are going to roam around their state.

Amelia tries her hand at fishing, makes new friends, and eats a lot of pizza along the way. Who needs Italy? The Bedelia's have a blast in the third book of the series.
Jacquie
(J Fiction)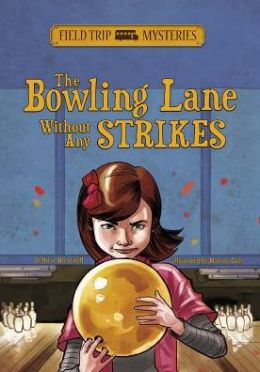 illustrated by Marcos Calo
In this
Field Trip Mysteries
caper, the gang (which includes Cat, Sam, Gum and Egg), are off to the bowling alley for the day.

They have a new girl, Lily, in their class and they learn that she is an expert bowler.

They pair up for teams and everyone is surprised when Lily throws one gutter ball after another. Something doesn't seem right when they learn she won the
Father/Daughter Championship over the weekend. Will they solve the mystery? This is a great series for beginning chapter book readers.
Kristin
(J Fiction)
Z

ero Tolerance
by Claudia Mills
Ever wonder what it's like to be the headline on the local news? Sierra, an honor student at Longwood Middle School, finds out the hard way when she accidentally brings her mother's lunch to school with her. But what would a parent's lunch have that would cause such a ruckus? A small paring knife to cut an apple! This book begs the question: is honesty always the best policy?
Zero Tolerance
is a great book for older readers (grades 5 and up) who may have graduated from
Judy Moody
,
Ramona
, and other realistic fiction titles. It's on the lighter side, but raises important questions—with plenty of drama and a hint of middle school
romance.
Cassie
(J Fiction)
One morning a boy and his sister wake up to find there's no milk for breakfast. Mom's out of town and no one wants milkless cereal or tea, so Dad dashes out to the corner shop. It should have been a quick trip but Dad doesn't return for what seems like ages. When he finally does come back, he brings more than just milk. He brings a story – a wild, crazy, hilarious, story involving aliens, pirates, ponies, and dinosaurs. A story so insane, it can't possibly be true… can it? Readers of the
Magic Tree House
series and
Geronimo Stilton
will definitely enjoy this wacky adventure from Newbery award winning author, Neil Gaiman.
Alia
(J Fiction)