April is National Poetry month and we couldn't let this month slip by without posting some of our favorite poetry books for kids.
All the World by Liz Garton Scanlon, illustrated by Marla Frazee
P SCA
The poem, which follows a family through their day, is simple enough for younger children to enjoy and the illustrations in the Caldecott Honor book are gorgeous. Every time I open this book I just want to crawl inside the panoramic landscapes!
Alia
Dogku by Andrew Clements, illustrated by Tim Bowers
J 811 Cle
Every bit of this book is in haiku form, including the jacket flap which introduces the book as: "A tale in haiku/of one adorable dog./Let's find him a home." This is the story of Mooch, a lovable stray dog taken in by a kind-hearted family. But the big question is, will he be allowed to stay?
Alia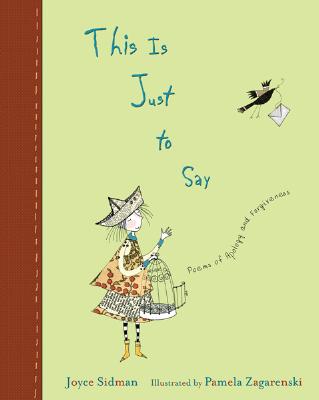 This is Just to Say: Poems of Apology and Forgiveness by Joyce Sidman
J 811 Sid
Inspired by the title poem of apology, which was penned by William Carlos Williams, this book is full of paired poems of apology and forgiveness. My favorite pairing features jelly donuts stolen from the teacher's lounge. In the end, Mrs. Garcia does forgive the offender but explains, "I still have to call your mother."
Meghan
A Light in the Attic by Shel Silverstein
J 811 Sil
A Light in the Attic
is probably the most popular anthology of children's poems there is out there. I will never forget the poem "Crowded Tub," in which you'll find out what happens when there are too many kids in one tub! Trust me, it's hilarious. So if you want to meet a Polar Bear in a Frigidaire or Quick-Digesting Gink, open up this book and start reading.
Amanda
Food Hates You, Too and Other Poems
by Robert Weinstock
J 811 Wei
This hilarious picture book collection of poems is about different type of foods that kids don't like. The illustrations are humorous and colorful and the selection of poems is interesting. It is a good book for kids who think they don't like poetry. If you need to check out a poetry book, you won't want to miss this one. It will leave you laughing out loud!
Kim