The Boy Who Swam With Piranhas
by David Almond
Stanley Potts is living a relatively happy life with his Uncle Ernie and Aunt Annie until
Ernie loses his job at Simpson's Shipyard. Then Uncle Ernie develops a crazy fascination with canning fish in the house. As everyone's lives are taken over by Ernie's fish madness, Stanley makes a break for it and finds himself in a carnival full of eccentric characters. There he meets Pancho Pirelli, the man who swims in a tank full of perilous piranhas. Can Stanley follow in Pancho's footsteps and become the stuff or legends? Fans of
Charlie and the Chocolate Factor
y and
James and the Giant Peach
should give this a try
.
Alia
(J Fiction)
Five, Six, Seven, Nate!
by Tim Federle
Our good friend Nate is at it again. Goodbye Pittsburg...Hello New York! Nate has wanted to be on Broadway for as long as he can remember. In the first book,
Better Nate Than Ever,
Nate snuck his way to NYC and auditioned for E.T.: The Musical. Well, in this fun sequel, Nate is given a very small part in the chorus. Follow our young hero as he fumbles his way through New York life, theater life, and the life of a pre-teen boy. Will Nate be given a chance to come out of the chorus and be a big star? You will have to read the book to find out.
Jacquie
(J Fiction)
A Snicker of Magic
by Natalie Lloyd
Felicity Pickle, her mother and her sister move all the time. Felicity just wants to stay in one place. They have landed in Midnight Gulch, which is where her mother grew up, and stay with her aunt Cleo. Felicity totally embarrasses herself at school, but makes a good friend in Jonah. There is a little bit of magic in Midnight Gulch and Jonah tells her all about the town's magical history. Together they try to solve an old mystery of the town and she hopes this will help keep her family here. As you will find out, every town needs a snicker of magic.
Kristin
(J Fiction)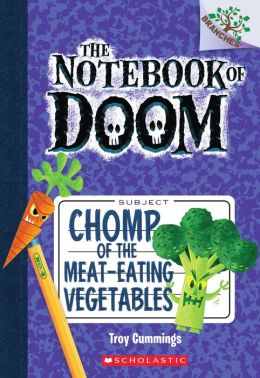 Chomp of the Meat-Eating Vegetables
by Troy Cummings
What's going on in Stermont? According to Alexander, there are monsters around every corner. That's why he, Rip, and Nikki formed the S.S.M.P.--the Super Secret Monster Patrol. This time around, strange things are afoot in the school cafeteria. One day they're serving extra-icky "chicken knuckles," and the next it's yummy ice cream for lunch! To top it all off, Rip goes missing and Alexander and Nikki must rescue him. This book is from
The Notebook of Doom
series, and is perfect for kids looking for humor and suspense who have recently graduated from easy readers to chapter books.
Cassie
(J Fiction)