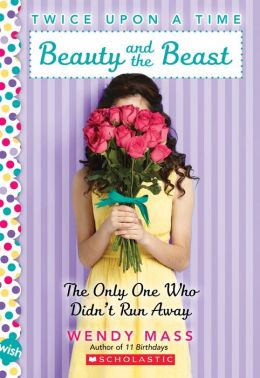 Beauty and the Beast: The Only One Who Didn't Run Away
by Wendy Mass
Think you're too old for fairy tales? Think again. This is the third of Mass'
Twice Upon a Time
books—and it doesn't disappoint. A young woman named Beauty (who doesn't think she
deserves such a name) is having a tough time: she lost her mother at a young age and her sister just burned their house down (by accident). Beauty, her sister, and father are working hard to pick up the pieces and move on. At the same time, Prince Riley and his family run into an awful witch who turns Riley into a beast while rendering his family invisible. The chapters alternate between the two characters, building suspense while you wonder "when are they going to meet?" This is a classic love story with twists of adventure suited perfectly for readers aged 8 and up.
Cassie
(J Fiction)
The Popularity Papers #6: Love and Other Fiascos
by Amy Ignatow
Lydia and Julie are back and are funnier than ever!

Our female heroines are growing up and that means branching out, meeting new people, and dating.

This is a hilarious look at two friends trying to figure out the new dating scene.

Throw in an overprotective father into the mix for added humor.

And to top it all off, Lydia's mom is getting married and Lydia and Julie have to be in the wedding and help plan it.

If you like any of the Popularity Papers books, this one will not disappoint!
Jacquie
(J Fiction)
Eggs Over Evie
by Alison Jackson
Evie is thirteen and still adjusting to her parents divorce.

She and her mom are both lonely and her Dad is very busy with his new wife. He even took their family dog, Mousse. Since she just got out of school for the summer, Evie who loves to cook, has signed up for a six-week cooking class. Sometimes she takes her food creations to her grumpy next door neighbor, Mrs. Hamilton. She is really excited about her class, but the teacher is a little quirky and pairs Evie up with a boy who doesn't seem to like her very much.

It seems like it might be a long and hot summer.

Evie includes cooking tips and recipes in this book.
Kristin
(J Fiction)
To say that sixth-grader Jack Mogens loves baseball would be an understatement. His room is filled with baseball memorabilia, he's been playing since T-ball, and now he has a starting spot on the Little League team, the Tall Pines Braves. But everything changes when Jack is hit in the head by a stray pitch opening day. Suddenly baseball is no longer fun. Jack can't let everyone know how scared he is. Is quitting his only way out? Don't miss this great middle grade sports drama.
Alia
(J Fiction)