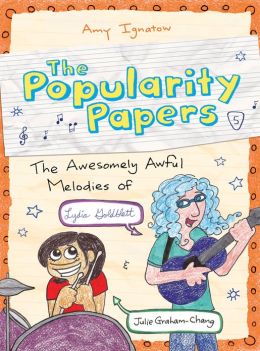 by Amy Ignatow
Best friends Lydia and Julie are back from their rocky road trip and are finally entering seventh grade! Julie's just trying to make it through the year unscathed, but Lydia is as determined as ever to crack the code of popularity. Her grand plan this time? Start a rock band! Get ready for hi-jinx, social drama, and a few life lessons in this 5
th
installment of the funny and down-to-earth
Popularity Papers
series.
Melissa
(J Fiction)
Jinx
by Sage Blackwood
Jinx is only six years old when he is left by his step-parents to die in the dangerous Urwald.

Luckily, the wizard Simon Mangus rescues him and brings him back to his cozy kitchen where Jinx grows up learning bits of magic and meeting some unusual visitors.

Jinx knows wizards are supposed to be evil but the prickly Simon doesn't seem so bad.

Then Jinx loses something dear to him as result of one of Simon's spells and suddenly Simon's home doesn't seem so safe
anymore.

Will Jinx know who to trust when everything in the Urwald is out to get him?

And will he ever be able to reclaim what was lost? Fans of Diana Wynne Jones won't want to miss this book full of wizardly adventures!
Alia
(J Fiction)
If you love baseball and especially the Phillies, you will love this book! Lenny, and his two best friends, Mike and Other Mike, enter Lenny in a contest to announce an inning of a Phillies game. They submit a great audition video and Lenny wins.

He and his dad go to the Phillies game for his announcing debut and before he gets his big chance, the newest pitcher on the team drops dead on the mound. Lenny and the Mikes can't believe this has happened and it seems awfully suspicious for a healthy 19-year-old to die so suddenly.

They are on the case with some
adventures and laugh-out-loud investigating. Will they figure out what happened to the pitcher?
Kristin
(J Fiction)