When Kitty and Baby continue to bicker and fight, Kitty's owner does what he feels is right.

The only solution is to send Kitty to school.

With Uncle Murray as the bus driver, Kitty and Puppy are taken to school to meet their teacher Miss Dee. Kitty is placed in a classroom with dogs, cats, and super rabbits.

While in school, Kitty learns many life lessons. Although he does not graduate, we the readers learn to see the good in this BAD KITTY.
Jacquie
(J Fiction)
Benny's tiny hometown of Dennis Acres has a big problem.

A local teacher has entered the town in the US Chamber of Commerce contest for "America's Most Charming Small Town."

The thing is Dennis Acres is not really anyone's idea of a charming small town.

As the town scrambles to spruce up before the Chamber of Commerce representatives arrive, Benny's own house is falling apart.

His mom and dad are splitting up and his dad's hoarding is taking over their home.

The pressure is on for Benny's dad to clear out his "collection" before the big visit.

Can Benny get his dad to clean up in time or will he lose his dad to the clutter?
Alia (J Fiction)
The Lions of Little Rock
by Kristin Levine
This powerful story of friendship, courage, and bravery during the very tense times of attempted school segregation in the south is a great read. Set in Little Rock, Arkansas 1958, the year after the famed 9 young children integrated the public schools. Our main character Marlee is extremely quiet and shy and basically only talks to her family.

She has just started middle school and there is a new girl at school—they become friends and Marlee starts talking! They both battle segregation to maintain their friendship.

The book is filled with strong characters and it is an interesting time in history that I knew little about.
Kristin
(YA Fiction)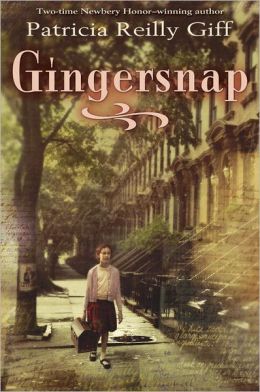 Gingersnap
by
Patricia Reilly Giff
Jayna feels all alone in the world. She lost both of her parents years ago and her older brother Rob just left to serve in World War II. When Jayna finds a photograph that she believes may hold a clue to her family history, she heads to Brooklyn in search of the bakery and woman pictured. Jayna may not find the long-lost grandmother she's been hoping for, but she does find a group of people that care about her and that's what
family
is all about.
Meghan
(J Fiction)