The Secret of the Fortune Wookiee
by Tom Angleberger
The students of McQuarrie Middle School are back… well all but one.

When origami master Dwight is sent to another school, the kids at McQuarrie are lost without him and his Origami Yoda. That is, until the Fortune Wookiee appears.

Each student has a problem that they think the Origami Yoda can help them with, but they go to the Wookiee and Hans Foldo for some wisdom.

Once again, a piece of folded paper is used to guide the students through their pre-teen problems.

But will Dwight be able to come back to McQuarrie Middle School? Read and find out.
Jacquie
(J Fiction)
Georges (the s is silent) has just moved with his parents to an apartment building in the same neighborhood he has lived his whole life. They had to sell their house after his dad was laid off. Georges doesn't have many friends and is pleased when he meets brother and sister, Safer and Candy, in his the apartment building.

He attends their Spy Club meeting after seeing the notice in the basement.

Safer recruits Georges to spy on the mysterious Mr. X, the man who lives above Georges and his family. Georges is happy to have a friend, but things start getting uncomfortable. Is this just a game to Safer… and is he telling the whole truth?
Kristin
(J Fiction)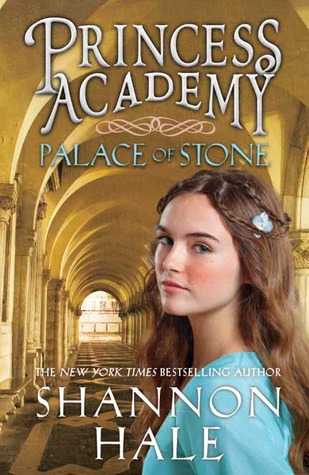 Join the girls of Mount Eskel in this follow up to the 2006 Newbery Honor book,
Princess Academy
. Miri and other students at the Academy are spending the year in Asland while Britta prepares for her marriage to Prince Steffan. Miri is thrilled to attend the Queen's College and take the knowledge she will gain back to her village. However, there's more going on in the big city than she ever could have imagined, including political unrest that test her loyalties. She wonders if Britta's wedding will happen and whether she herself will be able to give up her life in Asland to return home at the end of the year.
Meghan
(J Fiction)
by Joan Holub and Suzanne Williams
Have you got the mythology bug?

Are you into all things Greek? Then this is the series for you!
Zeus and the Thunderbolt of Doom
(the first book in the brand new
Heroes in Training
series) starts off in the belly of Cronus where five Olympian childgods are being held captive. They are awaiting the hero who will save them all.

Meanwhile, young Zeus is growing up as an orphan on the island of Crete, longing for adventure.

When he is kidnapped by Titans he gets all the adventure he's been waiting for and more.

But is he ready to be the hero that Olympus needs? This is the perfect book for kids just a little too young for Percy Jackson!
Alia
(J Fiction)