Jake and Lily
by Jerry Spinelli
Jerry Spinelli

(author of Maniac Magee) has written a book about family and growing up that is funny and bittersweet.
Jake and Lily are twins.

The bond between them is so strong that they can hear each other's thoughts and feel each other's emotions.

They were born on a train and
every year on their birthday, they sleepwalk to a train station in the middle of the night.

But things start to change the year they turn eleven.

Jake wants to hang out with the other boys in their neighborhood and Lily is lost without him. Suddenly both Lily and Jake have to find out who they are without their twin by their side and what kind of people they want to become.
A
lia
(J Fiction)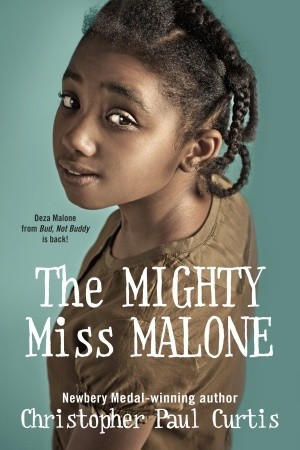 by Christopher Paul Curtis
The Mighty Miss Malone
is a powerful story about a family growing up and changing in Gary, Indiana
during the depression era.

Christopher Paul Curtis creates such strong and fun characters that you get drawn into this family right away.

Dezza is the young "darling daughter" in the Malone family who is smart and kind, and knows how to use a dictionary and thesaurus.

Rough times come upon this family and they are separated.

They don't know if they will ever be together again.

But through these hard times, there is laughter and tenderness that will stick with you for years.
Jacquie
(J Fiction)
This is the companion to
Everything on a Waffle
.

Primrose's life has returned to normal now that her
parents have returned safely from their year stranded on an island. There are plenty of things to keep her busy now.

She is desperately trying to be a matchmaker to her Uncle Jack and Miss Bowzer, but that's not going so well. Primrose is a bit lonely and would love to have a friend of her own. Can she find anyone in her small town to be best friends with? When the town becomes aware that a logging company is planning to clearcut their mountain, Primrose decides they need to be stopped. This is a great story with a lot of surprises at the end.
Kristin
(J Fiction)
The sequel to
Surviving the Applewhites
has finally arrived and fans of the first book will find much to enjoy here. The eccentric homeschooling family is in financial trouble. To avoid losing their farm, Wit's End, they decide to open an arts-based summer camp. To make their plan work, every Applewhite (and honorary
Applewhite, Jake Semple) must pitch in with his or her unique talents. Will the family be able to survive the summer without losing any campers or their home in the process?
Meghan
(J Fiction)