Bad Kitty is a bad kitty.

A very bad bad Kitty.

So why not read about Bad Kitty and how she celebrates Christmas?

Nick Bruel's newest kitty adventure had me laughing out loud.

When Bad Kitty wakes up on Christmas Eve, to find nothing good under the Christmas tree, she decides to take matters into her own paws.

Someone needs to teach Bad Kitty the true meaning of Christmas. Will she feel the holiday spirit?

This is a holiday must read.
Jacquie
(J Fiction)
Magical Mischief
by Anna Dale
When Arthur Goodenough steps into inside Hardbattle Books he expects to find an ordinary bookshop.

Books are not all the shop contains; it also houses magic, and not the nice fairy dust and happily-ever-after kind of magic.

This magic has brought disarray to Hardbattle Books and driven away most of Mr.
Hardbattle's customers.

It's time for Mr. Hardbattle to take action. A new home must be found and young Arthur can help. But what sorts of chaos will the magic cause in the meantime?
Alia
(J Fiction)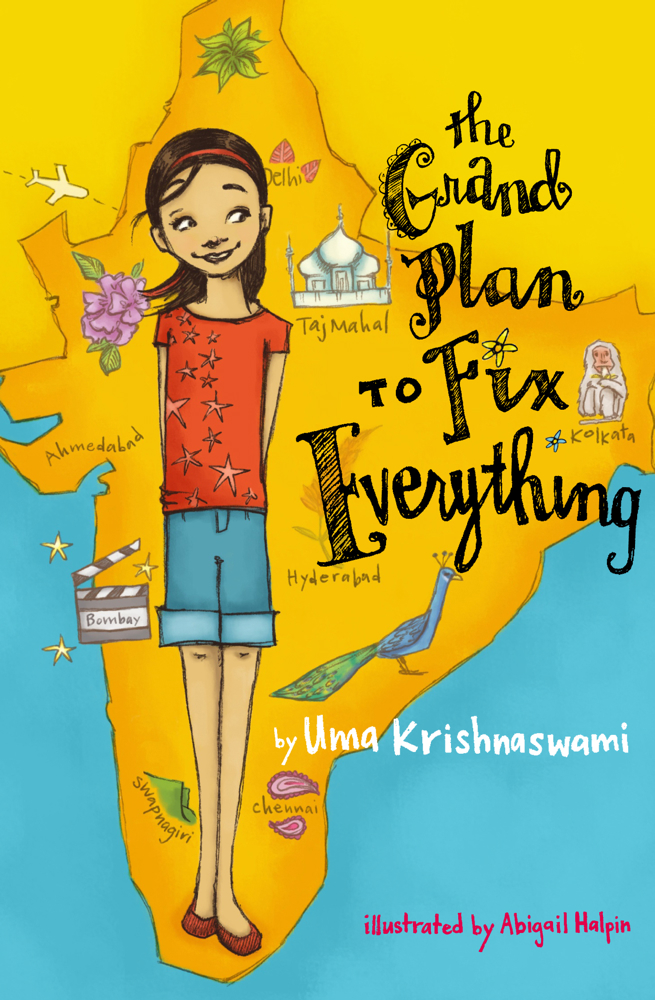 The Grand Plan to Fix Everything
Twelve year old Dini is NOT excited about moving to India for two years and leaving her best friend,
Maddie, behind.

However, Dini's spirits lift considerably when she realizes her Bollywood idol, Dolly Singh, is staying in the very same village!

Dini and Maddie have memorized every bit of Dolly's movies and Dini is thrilled at the prospect of sending her friend an autographed photo of the star. This book is a fun exploration of friendship and fate that reads like a fast-paced film.
Meghan
(J Fiction)
Saint Louis Armstrong Beach
Saint is an eleven year old boy living in New Orleans when Hurricane Katrina hits the Gulf and changes the lives of the residents forever. He is a normal kid going about his business, the music business, playing to earn money for a new clarinet. Like other kids, he has his friends, his Mama and Pops, and his dog Shadow. This takes place a few days leading up to and a few days after the storm, and is a good introduction to the
devastation of Katrina, without being too heavy.
Kristin
(J Fiction)
Leo, Amanda, and Rory are back for another fun story.

Part of the Willow Falls series,
13 Gifts
, introduces us to Tara, a sit on the sidelines type of girl.

Tara never wants to make waves or break the rules, but
somehow she ended up breaking into school and stealing a goat.

Her punishment is spending an entire
summer with her aunt and uncle in a small sleepy town. Tara meets a very unusual woman who turns her world upside down.

In order to make things right, Tara will need to find 13 gifts for the woman. With the help of some brand new friends, Tara learns that life is better when it is played on the field and not on the sidelines.
Jacquie
(J Fiction)